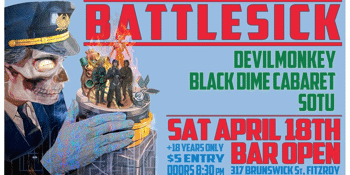 Bar Open Presents
BATTLESICK (Final Show)
with DevilMonkey + Black Dime Cabaret + Sotu
Saturday, 18 April 2020 8:30 PM
Battlesick
is back!
After 4 years of lurking in the shadows, we decided and announced we were playing one last show. The venue was set and so were we. Then we were set and the venue disappeared.
#RIPbombayrock
Since 2013 we've changed our line-up 3 times: We added a new bass player, then replaced him with a new a drummer, then we took away that drummer and replaced him with the original bass player; full circle.
"Questions, Coments?" was our debut EP recorded with
Goatsound
Records. It's since completely sold out of all copies. We began in 2013 with a non-conventional lineup: two bass players pumping separate tones of loud, crunchy, industrial synth and heavy funk, supporting rich, alternative rock vocals drenched over programmed drum machines.
These two bass players and one vocalist…?
Huf, Buckley and 12 Sandwiches.
Battlesick is bringing back this freshly-reinvigorated-original-line-up with a mega party at Bar Open, Saturday 18th of April.
Bar Open will be the first to get a dose of 2020's newly re-reconstructed Battlesick.
We're also bringing back our multi-projector live set up. Battlesick blankets any venue in a light show installation - shining thick colourful surreal imagery throughout the room. The film jump-cuts are crafted from collected 16mm, 8mm and Super 8 film prints, nicely spliced into an immersive surreal live art show perfectly accompanying synth/vocals, drums and bass for one hell of an original and energetic interactive experience.
Joining us on the night are:
DevilMonkey
Strong bass driven, hard electro dub metal filled to the gills with catchy industrial drum grooves and fast paced action-packed audio anarchy.
Black Dime Cabaret
Following on the heels of bands like Coheed and Cambria and The Dear Hunter, Black Dime Cabaret is the latest rock opera to explode into the universe.
Sotu_Rock
Raw, Noisy Rock - Melbourne style; the way it used to be back in the nineties.