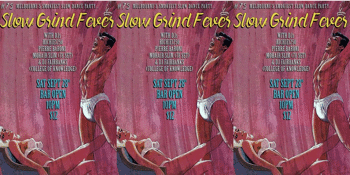 Bar Open Presents
SLOW GRIND FEVER #75
with Richie1250, Mohair Slim, Pierre Baroni and DJ Fairbanks
Saturday, 28 September 2019 10:00 pm
SLOW GRIND FEVER returns to Bar Open for more slow twisting, low dipping, neck kissing, and all that good stuff. We play the slowest, sleaziest, spookiest, sweetest, swinginest old records we can find, and people dance real slow in a haze of smoke and dim red light. It's a good time.
Joining SLOW GRIND FEVER residents DJ Richie1250, Mohair Slim (78rpm set) and Pierre Baroni will be DJ Fairbanks aka Lachlan Stuckey of Surprise Chef / College Of Knowledge Records / Plug Seven Records. Those Suprise Chef records show his love of moody, cinematic, David Axelrod type soul and jazz records, and we are stoked to see how that vibe translates into his midnight set at Slow Grind Fever #75.

Upstairs doors 10pm. Tickets: $12 at the door only.